ADVANCED ELECTRICAL SERVICES FOR CRITICAL OPERATIONAL NEEDS
Located in Los Angeles, Orange County, Riverside, and San Diego, Baker's engineers and electricians are capable of delivering 24/7 emergency response, equipment modernization, device or machinery additions, lighting retrofits, engineering services, and preventive maintenance solutions for any voltage up to 35kV.
Our mission is to deliver world class electrical solutions that: delights Customers, our Team is proud of, and inspires future Talent.
After 8 decades, we continue to preserve and grow our trusted partnerships with facility managers, building owners, engineers, and general contractors across diverse markets that include bio-tech, hospitality, entertainment, public works, military, education, utilities, healthcare, commercial, and industrial customers.
EXPERIENCING ELECTRICAL SYSTEM FAILURE? CONTACT US FOR 24-HR EMERGENCY SERVICE.
CALL: 760.690.5007
EMAIL: [email protected]
MAINTAIN

Advanced maintenance service to extend equipment life and ensure planned vs emergency downtime to insulate your productivity

IMPROVE

Improve your electrical network reliability with ongoing analysis of chronic power quality conditions and unplanned downtime
OPTIMIZE

Maximize uptime and reliability by optimizing your system equipment and performance

MINIMIZE

Certified installations and service to minimize the risk of failure, reduce costs and improve life safety
PREVENTIVE MAINTENANCE

Conducted in accordance with NFPA, ANSI, and Manufacturer standards

INFRARED SCANNING

CABLE TESTING AND SPLICING

POWER QUALITY ASSESSMENTS

Harmonics, Power Factor penalties, load imbalance, unstable system performance

TEMPORARY POWER SOLUTIONS
Whether your enterprise is seeking to expand operational capacity, modernize your system to meet new or different needs, replace end-of-life equipment to help improve efficiency and reduce costs, or simply repair a fault in the system, Baker Electric offers several services to bring your enterprise to current modern and operational efficiency standards.
ELECTRICAL SAFETY

OSHA/NFPA compliance assessments

NEC Equipment Evaluations

Arc Flash Studies

Training

FIXTURE AND LIGHTING CONTROL UPGRADES

BACKUP POWER SOLUTIONS

UPS & Generator

Automated paralleling controls

EV CHARGER INSTALLATIONS

ENGINEERING SERVICES

PRODUCTION LINE OR TOOLING RENOVATIONS

END OF LIFE EQUIPMENT MODERNIZATION

POWER & ENERGY MANAGEMENT
Preventive Maintenance
Arc Flash Studies
Medium Voltage
Troubleshooting
Electrical Safety
Power distribution
24/7 Emergency response
Disaster Recovery
Equipment recovery
Power quality
Infrared Scan
Master service agreements
Repairs and upgrades
Retrofits/modernization
Temporary power generation
Backup generation
Automatic transfer switch
Electrical testing
Splicing
Embedded workforce
Equipment restoration
Power distribution automation
PROTECT YOUR INSTALLATION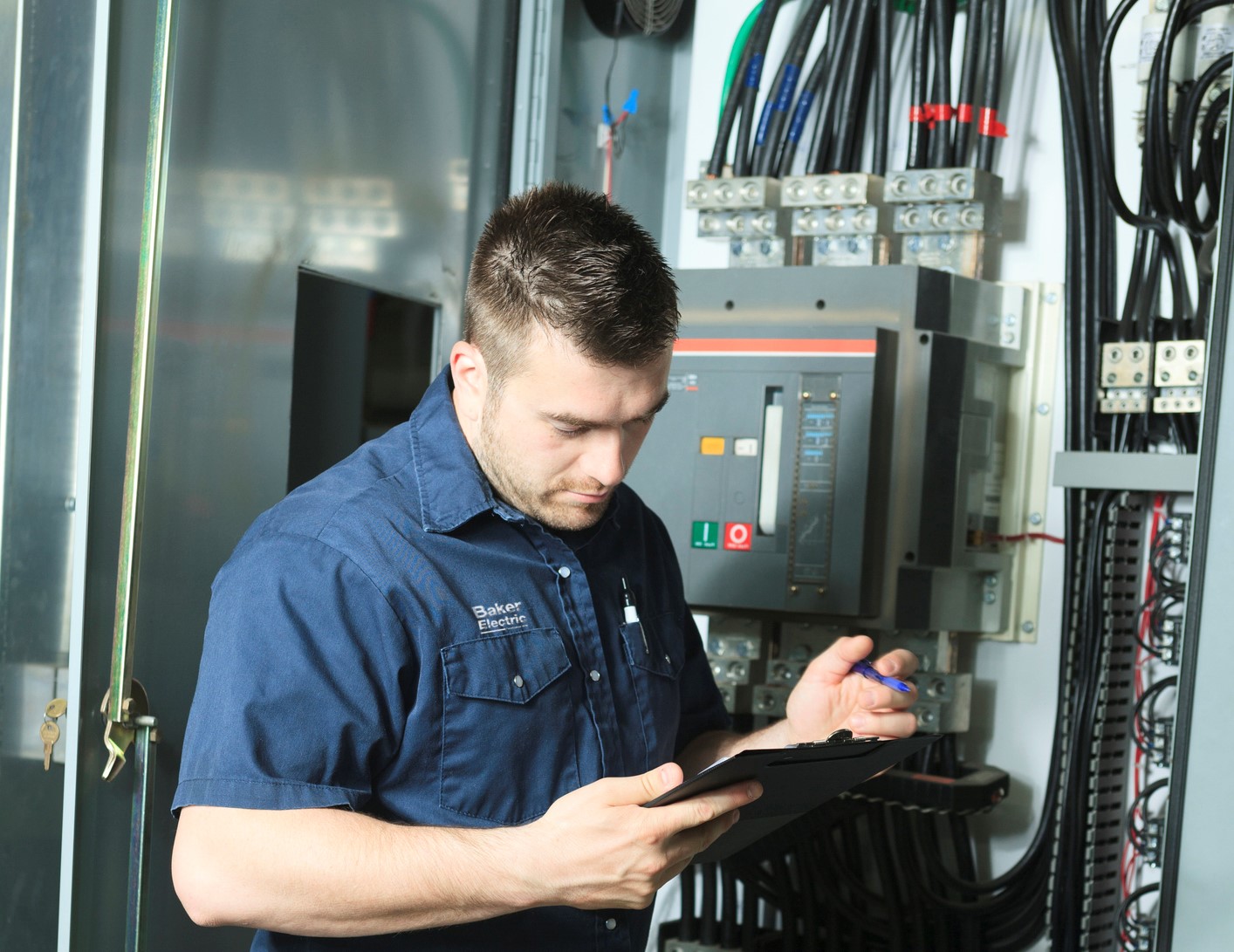 General Service Inquiries
Need a new Service Provider or are you looking for a better Preventive Maintenance Package?
Since 1938, Baker has delivered power system services throughout California with uncompromising quality, innovation, and integrity. Certifications include NFPA 70E/OSHA, NFPA 70, NFPA 99, and NFPA 110
Talk to our experts about Modernization. The challenges of aging electrical equipment can often be addressed without total replacement. We can guide you through the modernization process.
PREVENTATIVE MAINTENANCE PACKAGES
By far the most-cost-effective means to securing power system reliability and lower life-cycle costs. We offer packages to fit your budget and system needs.
GREAT
CUSTOMER CARE

We provide you with solutions, support and advice so you can complete your project on time.

OUR WORKFORCE IS
100% OPERATIONAL

We are ready to assist your organization in completing or beginning your essential projects.
WE'VE RETOOLED
HOW WE WORK

We adhere to all the CDC guidelines, and rigorous cleanliness procedures.
24
EMERGENCY SERVICE HOURS PER DAY
20
AVERAGE % REDUCTION IN UNPLANNED DOWNTIME
15
AVERAGE % REDUCTION IN MAINTENANCE COSTS
We Love Our Customers
Baker Team –
Can I just say how much I love you guys?! Everyone is so responsive, professional, and takes pride in their work. We are using Baker almost exclusively now and it's because of all of YOU! I'd like to get this message to the top of Baker. I'm sure they know how fabulous you are, but it probably doesn't hurt to hear it from a client. Let me know who I can send a message to.
Many, many thanks!
Vice President Corporate Facilities
We had the privilege to have Baker Electric install commercial solar systems at our San Diego and Solana Beach Locations. I say privilege because in both cases it was a fantastic experience. All in all, Baker is a solid company with a solid crew. Everything was extremely well coordinated and I highly recommend them.

David Bubnash
General Manager, Morena Storage, Solana Beach Storage
After a nationwide search, we found Baker had the experience and did the best job of explaining the options. They worked closely with our structural engineering and steel contractor and added roof reinforcements designed to meet seismic requirements when the concern came up. Baker stayed on schedule, did a great job of communicating and even arranged the solar commissioning after-hours and on a weekend to help us avoid interruptions to our business operations.

Todd Roberts
President Marine Group Boatworks
As a charter school leader, I depend on reliable, responsive, and high-quality support from trusted advisors. I have found Baker Electric to fully meet and exceed those expectations. Their attention to detail and a wide range of knowledge on construction management and coordination was impressive. We found them to be approachable and invested, as they pursued our project with our best interest in mind and first. We were quite satisfied with the outcome.

Monique Davis
Executive Director El Sol Science & Arts Academy
The whole experience with Baker has been excellent. The installation team was very professional and did a great job and left the site cleaner than when they arrived.

Excellent communication throughout the project! Everyone was very professional and friendly! They made it very easy for us. Highly recommend Baker!