SAN DIEGO TOP PLACES TO WORK
THE SAN DIEGO UNION-TRIBUNE NAMES BAKER ELECTRIC A WINNER OF THE SAN DIEGO TOP WORKPLACES AWARD
LEARN MORE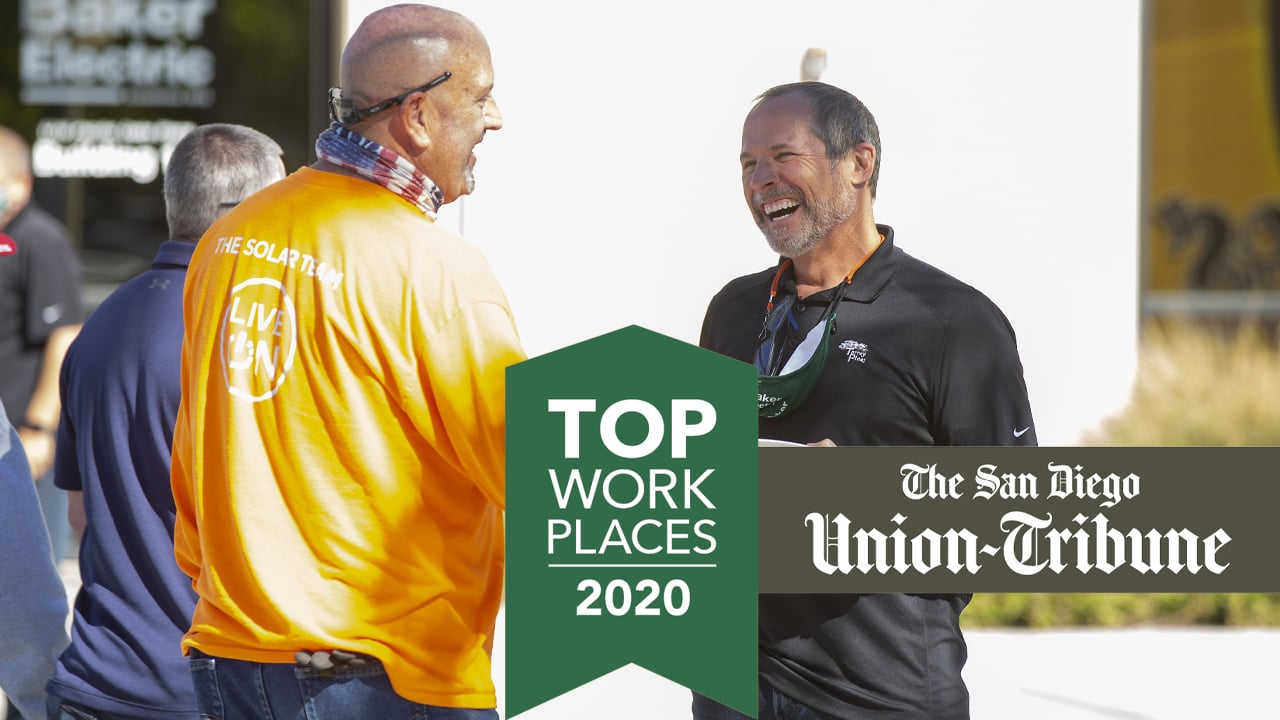 This is More Than a Job. This is The Baker Way
Careers are built and celebrated here. So, Baker recruits highly-motivated and dedicated people who are passionate about achieving levels of excellence we believe are unique in the industry. We pride ourselves on building a collaborative environment where our team members are encouraged to learn and grow, share ideas and take on leadership roles. We offer training, great benefits and a family culture and community. Working at Baker is rewarding both professionally and personally. So, whether you're a recent graduate or an industry vet, we encourage you to consider Baker.
GLASSDOOR
Get the inside scoop and find out what it's really like from people who've actually worked at Baker Electric.
explore
WORK AT BAKER
JOBS
Impactful jobs, strong leadership and opportunities for growth that will help you take your career to the next level.
apply now
LINKEDIN
Dive deeper with culture highlights, company photos, employee perspectives, testimonials and gain insights into our company leaders.
follow
CONNECT WITH US. Simply submit your resume so we can reach out when a
GREAT CAREER FIT, becomes available.
WE CARE ABOUT OUR TEAM MEMBERS
Employee Stock Ownership Plan (or "ESOP")
Baker Electric joins approximately 7,000 ESOPs in the U.S. with roughly 14 million participants.
Baker is a unique company – driven but with a family feel. Many of our employees have been with us for a good portion of their careers. Our ESOP will position the company for sustainable, long-term growth, while enhancing our team members' work lives and financial futures. As an employee-owned company, every employee-owner at Baker Electric shares in our success. Yearly contributions of company shares can make a huge impact on our Team members' life. When we do well as a company, all employee-owners do well.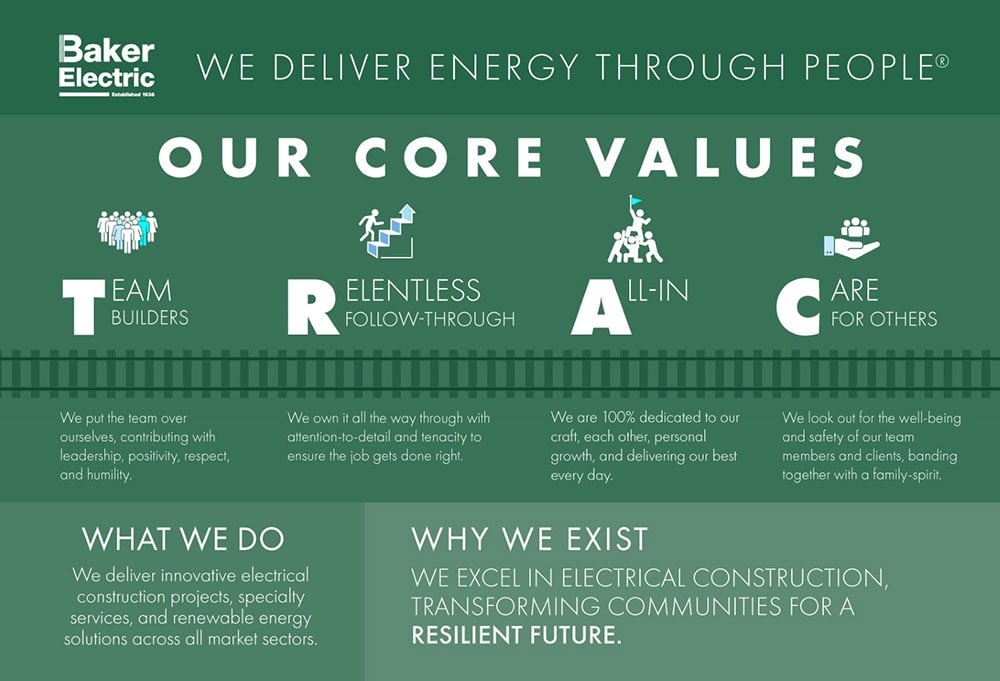 85
YEARS PROVIDING EMPLOYMENT OPPORTUNITIES THROUGHOUT SOUTHERN CALIFORNIA
WE DELIVER ENERGY THROUGH PEOPLE
At Baker Electric, our greatest asset is our people. The talent and commitment Baker employees demonstrate every day is critical for maximizing sales growth and profitability; creating a culture of safety; capitalizing on professional development; maximizing teamwork and delivering outstanding customer service. We're proud of our heritage as a 4th generation, family owned and operated business. We firmly believe our employee longevity is a testament to our fair and ethical business practices and our commitment to treat every team member with respect.
submit resume
Apply Now
At Baker Electric, we recognize that our team members are our most important resource in maximizing sales growth and profitability through safety, employee development, teamwork, and customer service. We believe our team member longevity is a testament to our fair and ethical business practices.
submit resume
Apply Now
4 years
Baker is an excellent employer. I have had the opportunity to design & engineer our Commercial Solar Division projects, which has allowed me to grow professionally. The support and opportunities I continue to receive within Baker are top class. I would highly recommend working here.

Austin Earley
Electrical Design Engineer 3+ Years
10 years
Through my tenure at Baker, I've been able to manage complex and challenging projects, participate in leadership courses, and obtain a higher education degree. Baker is a company where careers are made and fostered. I enjoy working at Baker as its culture, hard work, and professionalism are in line within my own core values.

Jessica Woodson McMurtrie
Director of Procurement
4 years
What attracted me to join Baker Electric is the fact that Baker is a family-owned company. Directly and indirectly, this helps to preserve a healthy, positive, and rewarding work environment. The smiles seen here at Baker are frequent and genuine; everyone really loves it here!

Israel Slazar
PV Designer
24 years
I've worked for Baker-Electric for 22 years. I started out in an entry level position in the field and I knew then I was part of something special! Through the years I've realized there were opportunities to grow. The family owned business definitely had the atmosphere I wanted to be part of. The core values and vision were an easy fit for me. I will always be grateful for the career Baker Electric has allowed me to grow into.

Bert Vidaca
Director of Field Operations, Utility and Commercial Solar
22 years
Within a month of leaving my home country of Switzerland, I was fortunate to be offered employment with Baker Electric. Both Kent and Ted Baker as well as my direct Supervisors have always been approachable, fair and above all supportive. It has been a privilege being part of a company for 20 years whose revenue has soared from under 10 million to nearly 200 million a year.

Reto Gisler
Design Build Manager
3+ years
Joining the Baker Team is one of the best decisions I have ever made - not only for my career path but for personal growth as well. I believe what separates Baker from other large corporations is our core values and employee engagement. Baker truly feels like a family, and it shows throughout our offices. It is not always common to walk into your workplace and fist bump a Vice President or casually socialize with the "C Suite". Walking into Baker, the genuine happiness from others is infectious, and it makes you happy to be a part of something so special. Combine that with a passion for what you love to do and it's a recipe for success! I have personally grown in several departments here at Baker, and I look forward to continuing my growth for many years to come.

Stephanie Wright
Learning & Development Specialist
WHY CHOOSE BAKER
ELECTRICAL CONTRACTING AND CONSTRUCTION SERVICES IN SAN DIEGO, RIVERSIDE, ORANGE AND LOS ANGELES COUNTIES.
LEARN MORE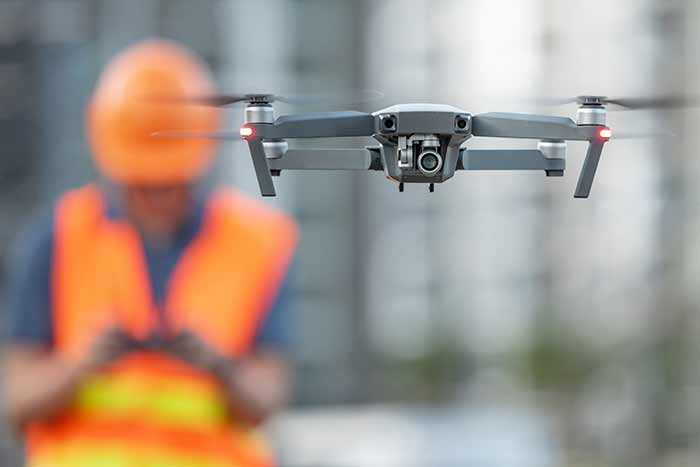 JOIN THE BAKER TEAM
Found a position that looks like a fit? Apply! If nothing fits, click on Connect With Us and we'll send you job updates.
After the Hiring Team reviews your information you'll hear from us. If invited for next steps, you may connect with our team via phone and an on-site interview. Here are ways you can prepare: "Get some tips"
We consider candidates carefully to ensure the best fit for YOU and for Baker. If we extend an offer, we're happy to answer any questions and truly ensure you have all the information needed to make the best decision.
From charitable donations, sponsoring fund-raising events, providing volunteers, to donating time and electrical resources Baker Electric has been giving to many organizations for many years. These include:
• Father Joe's Villages
• Boys and Girls Club of Escondido
• Jacobs & Cushman San Diego Food Bank
• Ronald McDonald House Charities of San Diego
• Escondido History Center
• Junior Achievement
• Make-A-Wish Foundation
• Palomar College Foundation
• Shakti Rising – Changing Women's Lives in San Diego
• Susan G. Komen Breast Cancer Foundation
• TERI – Training Education & Research Institute
• The LR Green Educational Foundation
• YMCA of San Diego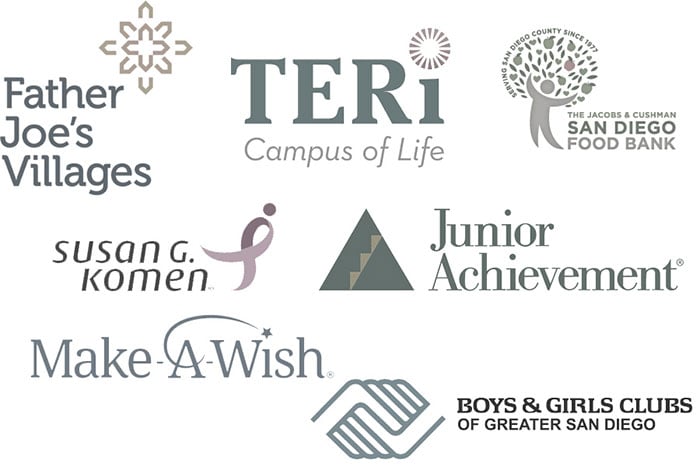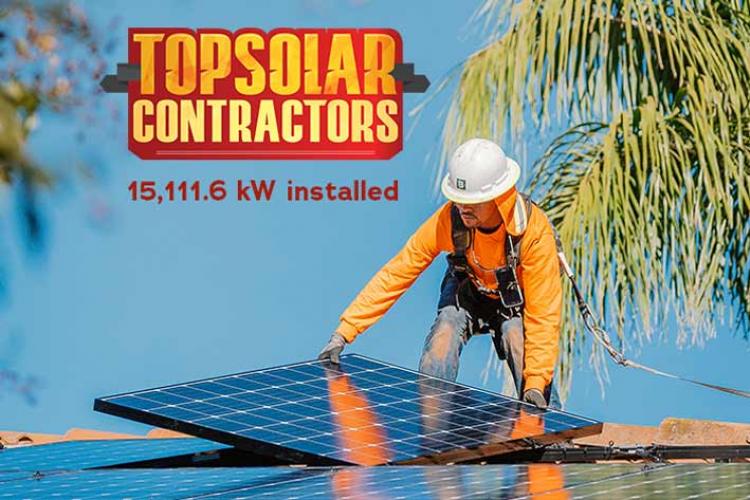 CAREERS AT OUR RESIDENTIAL SERVICES COMPANY
You can energize your career with more opportunities than what's listed here! Check out our affiliate, Baker Electric Home Energy. Our Residential Services company is a place where careers are made, lives are enriched and successes are celebrated. We are an energetic, positive company that is firmly committed to excellence for not only our residential customers, but team members too!
Help homeowners achieve Energy Independence through one of our career opportunities.
bakerhomeenergy.com Jobs
EQUAL OPPORTUNITY EMPLOYER
Careers at Baker Electric
Baker Electric is an Equal Opportunity Employer. We encourage applications from all individuals regardless of race, religion, color, sex, pregnancy, national origin, sexual orientation, ancestry, age, marital status, physical or mental disability or a disabled veteran, political affiliation or belief.
As a federal contractor, Baker is required to use the E-Verify process to confirm that individuals assigned to perform substantial work under certain federal contracts/subcontracts are eligible to work in the United States.