Baker Electric is a world-renowned leader and provider of solar and electrical contracting services and renewable energy storage solutions with a long track record of excellence.
Leveraging its diverse industry experience and inimitable success streak, Baker and its seasoned experts uphold the company's legacy of uncompromising quality, innovation, and integrity. In the utility-scale sector, Baker has works alongside large utilities and solar farms ranging up to 400 megawatts. In addition, Baker addresses the shortage of developers and contractors for many small-scale EPCs and solar energy farms and plants ranging between 10 to 75 megawatts.
5 Reasons Why Baker Electric is the Right Fit for your Utility Scale Solar Project
Our EPC group can provide turnkey services for Solar & BESS systems.
Our BOS specialty group can provide full electrical services for Solar & BESS systems, as required per project.
Baker has the capability to meet your system size needs having installed projects from 3MWs to 500MWs.
Baker provides comprehensive pre-construction services including weekly design coordination meetings (both internal and with our client). This encompasses the project from conceptual design through the permit.
Baker utilizes in-house electrical engineers, primarily used as peer review. Engineering partners are commonly used in the USS EPC sectors for Electrical, Civil, Structural and Environmental.
Baker addresses the shortage of developers and contractors for many small-scale EPCs and solar energy farms and plants ranging between 10 to 75 megawatts. It is fully equipped to meet their distinct demands with full-service turnkey design services, including site survey, fencing and grading, road, transmission lines, substation installations, and electrical module and wiring installation.
"A developer in the EPC space approached us to bid and design their small-scale 25-megawatt solar project. The client had the required funds and resource materials, but lacked the expertise required to execute the project. We were able to leverage our knowledge in sub-contracting and electrical contracting services to enact the plan and meet the client's requirements. The solar plant project was completed in nine months, giving us our first ever opportunity to enter the small-scale EPC space. That is how it all started."

- Scott Williams | Executive Vice President
LET'S DISCUSS SMALL SCALE EPC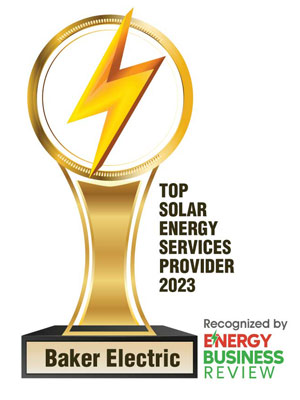 UTILITY SCALE SOLAR INSTALLATIONS
SEPV 18 Solar – 2690 kW (Palmdale, CA)
Perma City FIT – 16568 kW (San Pedro, CA)
Sunray lll Solar – 17200 kW (Daggett, CA)
Mira Loma Aliso Canyon – 20000 kW (Ontario, CA)
Sunpower Wildwood – 20970 kW (Wasco, CA)
Alamo Solar – 23740 kW (Oro Grande, CA)
SunEd-AP North Lake Solar – 24060 kW (Hemet, CA)
Columbia Solar Energy Project – 24160 kW (Pittsburg, CA)
Catalina 2 Solar – 24280 kW (Rosamond, CA)
Bayshore Solar C – 24931 kW (Lancaster, CA)
Bayshore Solar B – 24931 kW (Lancaster, CA)
SEPV Mojave West Solar – 24990 kW (Mojave, CA)
Sunpower Rio Bravo 1 Solar – 25990 kW (Mc Kittrick, CA)
8ME-Redwood 4 Solar – 26536 kW Bakersfield, CA)
Sunray ll Solar – 26600 kW (Daggett, CA)
Longboat Solar – 27000 kW (Barstow, CA)
NRG Solar Blythe 11 – 28170 kW (Blythe, CA)
Maricopa West Solar – 28220 kW (Taft, CA)
Cuyama Solar – 54934 kW (Maricopa, CA)
Seville Solar – 67750 kW (Ocotillo Wells, CA)
RE Barren Ridge 1 – 77990 kW (Mojave, CA)
Springbok 1 Solar – 137080 kW (Cantil, CA)
Stateline Solar Phase II – 169210 kW (Nipton, CA)
Stateline Solar – 170580 KW (Nipton, CA)
Springbok 2 Solar – 191130 kW (Cantil, CA)
1
US ELECTRICAL SUBCONTRACTOR RANK
85
YEARS PROVIDING EXCELLENCE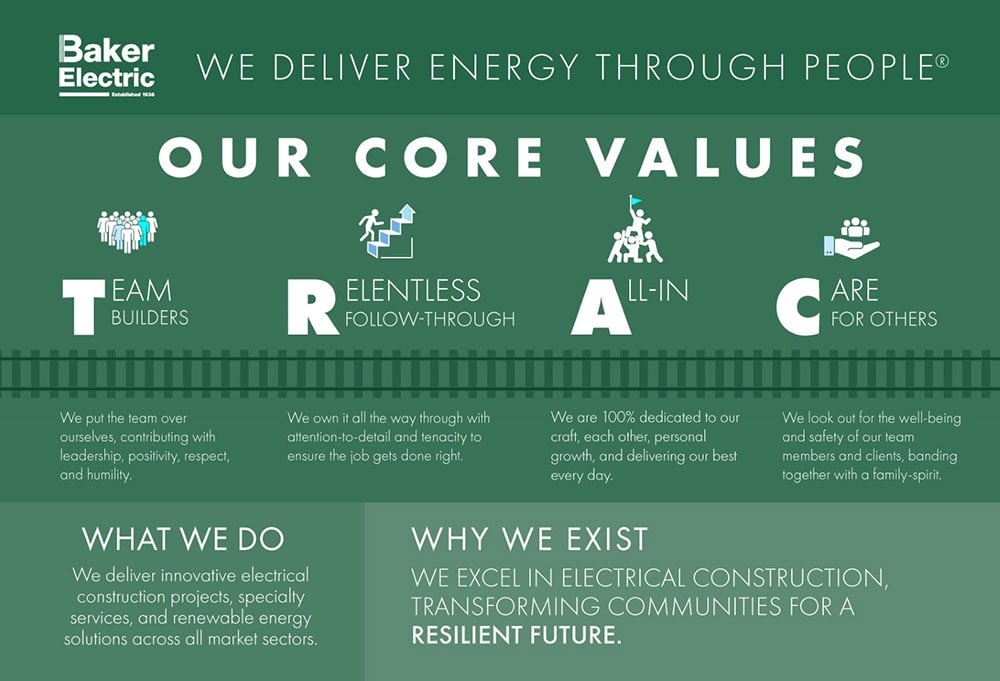 We Love Our Customers
Baker Electric was the right fit to install a 350-kilowatt 14-hundred panel solar system. By going solar we will save $120,000 each year reduce our electric bill by nearly 90 percent. This will allow us to provide an additional six hundred thousand meals to the community. I can't say enough good things about Baker Electric.

Jim Floros
President & CEO The Jacobs & Cushman San Diego Food Bank
We had the privilege to have Baker Electric install commercial solar systems at our San Diego and Solana Beach Locations. I say privilege because in both cases it was a fantastic experience. All in all, Baker is a solid company with a solid crew. Everything was extremely well coordinated and I highly recommend them.

David Bubnash
General Manager, Morena Storage, Solana Beach Storage
After a nationwide search, we found Baker had the experience and did the best job of explaining the options. They worked closely with our structural engineering and steel contractor and added roof reinforcements designed to meet seismic requirements when the concern came up. Baker stayed on schedule, did a great job of communicating and even arranged the solar commissioning after-hours and on a weekend to help us avoid interruptions to our business operations.

Todd Roberts
President Marine Group Boatworks
As a charter school leader, I depend on reliable, responsive, and high-quality support from trusted advisors. I have found Baker Electric to fully meet and exceed those expectations. Their attention to detail and a wide range of knowledge on construction management and coordination was impressive. We found them to be approachable and invested, as they pursued our project with our best interest in mind and first. We were quite satisfied with the outcome.

Monique Davis
Executive Director El Sol Science & Arts Academy
The whole experience with Baker has been excellent. The installation team was very professional and did a great job and left the site cleaner than when they arrived.

Excellent communication throughout the project! Everyone was very professional and friendly! They made it very easy for us. Highly recommend Baker!

In 1938, Leroy Baker founded a simple electrical business focused on rewiring household appliances and performing other home-based energy needs. Today, Baker Electric is widely recognized and respected as one of Southern California's leaders for its innovative and comprehensive portfolio of electrical contracting and Renewables solutions.
BAKER TURNS 85
Since 1938, Baker Electric has been a leader in the electrical industry, providing top-quality products and services to our customers. We are proud to have served generations of families and businesses, and we look forward to continuing to do so for many more years to come.Thank you to our loyal customers, dedicated employees, and supportive community for making this milestone possible. Here's to 85 years of excellence and many more to come!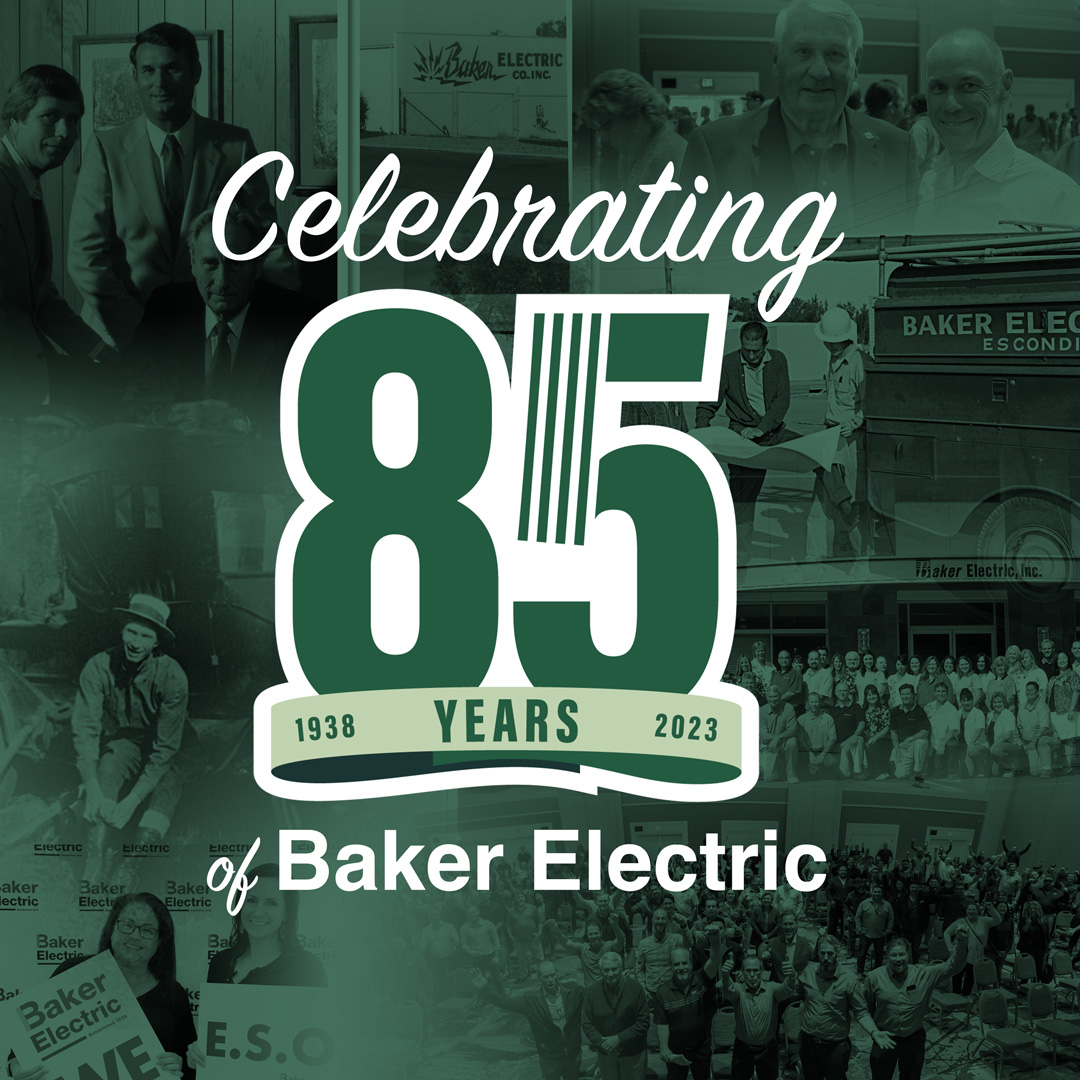 BAKER BECOMES 100% EMPLOYEE OWNED
"I've considered transitioning to an ESOP for the past few years, and I am happy and excited that this day has finally come," said President and CEO Ted Baker. "Our hard-working, dedicated employees are the lifeblood of Baker Electric. We are very excited about implementing this structure and confident that the long-term benefits of this plan will not only enhance our company's performance capabilities for the benefit of our clients and industry partners, but also bring significant value to our Baker Electric team members."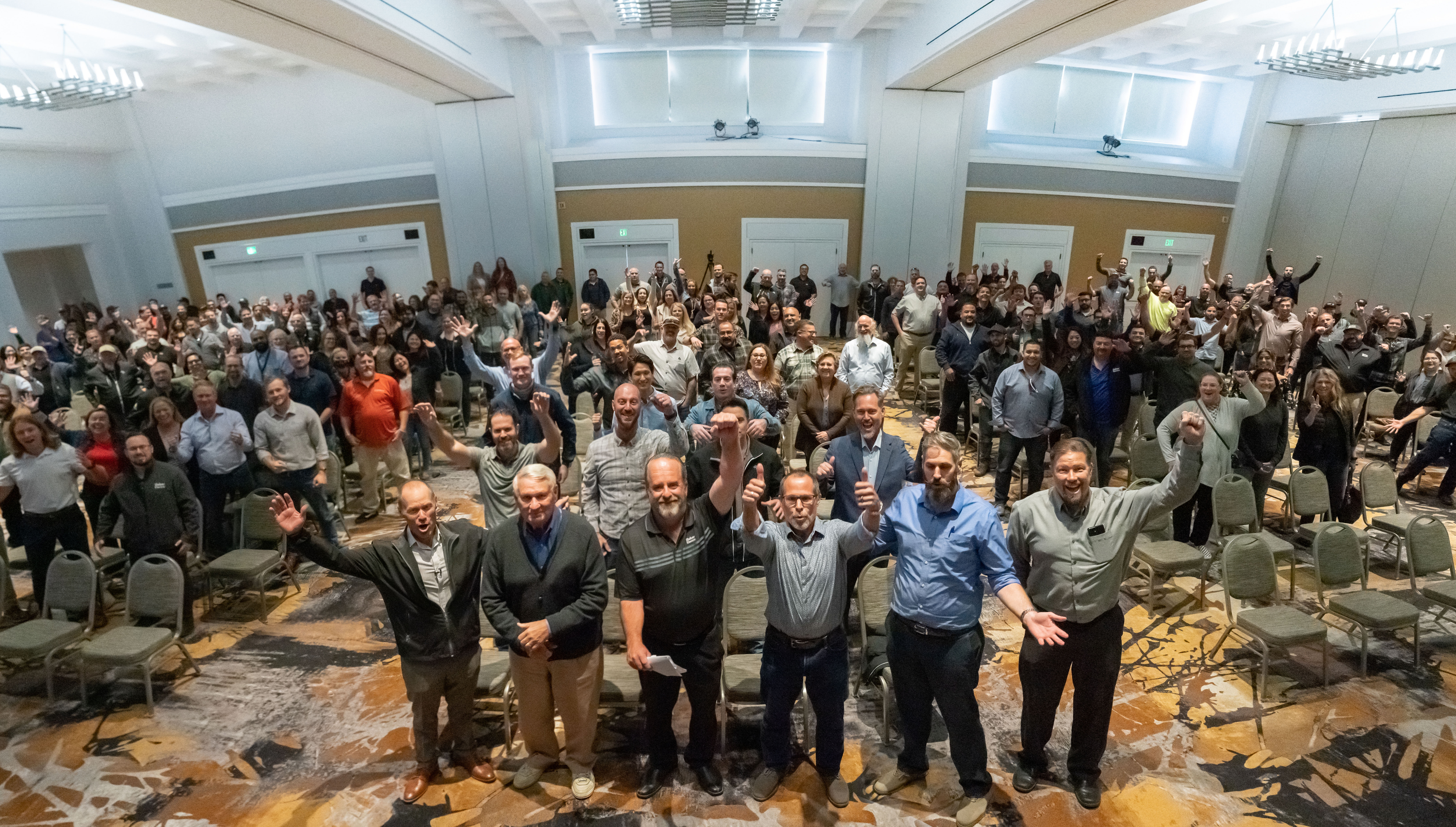 BAKER CELEBRATES ITS 80th Anniversary
Celebrating their 80th year in business in 2018, Baker Electric toasted to their longevity by expanding the four generation, family-owned company based in San Diego to the City of Los Angeles. Since 1938, Baker has delivered electrical contracting services to the greater Southern California area with uncompromising quality, innovation and integrity. The exponential growth in the number of projects in the region over the past few years has led Baker to open a new office in Los Angeles to better serve the greater L.A. County market.

LAUNCH OF BAKER ELECTRIC SOLAR
Now Baker Electric Home Energy. With Baker Electric seeing unprecedented growth in the residential solar sector, a demand for solar installations for homes had become a top priority. With so much potential for meeting the renewable energy needs of local homeowners, Baker Electric Home Energy was introduced in 2007.

BAKER BUILDS NEW HEADQUARTERS
In 2006, Baker Electric built a new office and warehouse located in Escondido. The building is close to 30K sq ft and now serves as the company's Corporate Headquarters.

TED BAKER BECOMES PRESIDENT & CEO
Ted Baker joined Baker Electric as an estimator. Ted grew into his position and learned the ins-and-outs of Baker Electric, Inc. He helped the company save money and continue to grow for years. In 2000, Ted took over as President of Baker, where he remains today.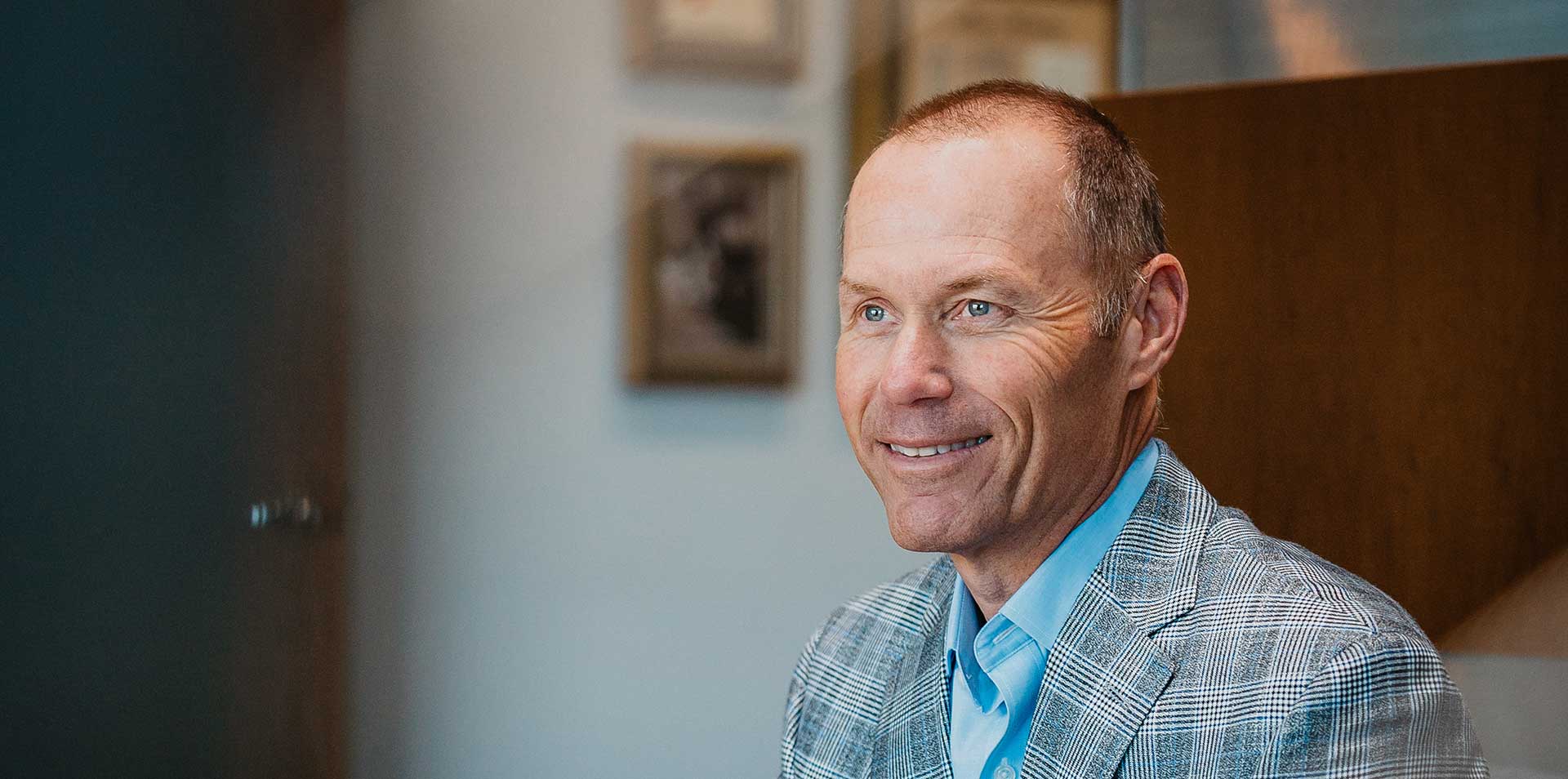 BAKER JOINS NECA
In 1957,Baker Electric joined the then small group of electrical contractors in the National Electrical Contractors Association (NECA).

BAKER OBTAINS ELECTRICAL CONTRACTERS LICENCE
In 1956, Baker Electric acquired its Electrical Contracting License. Prior to this time, the laws were loose and a license wasn't required to perform work. One year later, Baker Electric, Inc. joined the then small group of electrical contractors in the National Electrical Contractors Association.

LEROY BAKER ACQUIRES DEITRICH ELECTRIC
LeRoy Baker purchased a local electric company called Dietrich Electric for $4,000. While he did not realize it at the time, LeRoy would soon begin the Baker legacy of excellent customer service and quality workmanship in electrical contracting.